Vox Machinae Announcement
Space Bullet is thrilled to reveal Vox Machinae, a game in which giant robots clobber one another. We've worked hard to bring 31st century combat games into the 21st century with immersive virtual reality. Have a browse through the site which is chock-full of hearty information about the game.
Vox Machinae was on demo last night at the SVVR (Silicon Valley Virtual Reality) holiday party. It will also be making the rounds at VRLA (Virtual Reality Los Angeles) December 13th, and Full Indie Vancouver December 16th.
Keep you eyes peeled for more news on December 15th when the VR demo will be made available online for all to try.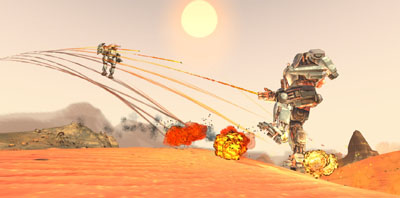 ©2022 Space Bullet Dynamics Corporation