"We got the Unity St. station upgraded to version 5; it's got a whole new physics system, ya know!", you continue. "Now we can walk around with a bit of lead in our shoes and we even have wheeled vehicles canvassing the mean streets of Topaz-07." Silence on the line.
The new physics system in Unity 5 forced us to rewrite the robot locomotion system for the better, and allows for wheeled vehicles.
Alright, time to bring out the sparklies. "There's cracking glass when you get damaged, detachment effects when limbs get blown off, jump jet flames, geometry explosions, upgraded weapon effects--" you rattle off a laundry list of improvements before realizing you've broken character.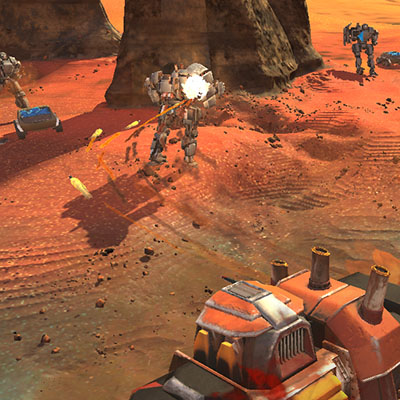 The new projectile system is optimized to let us have lots of physically simulated projectiles of different types, without breaking online play.
"OK, Detective Bot, I get the picture. Lots of progress on the case.", says the Chief, breaking the awkward silence. "Just one thing, though." The bead of sweat hanging onto your brow for dear life starts losing its grip. "Can you hit anything with those missiles?" With a hand over the reciever, you breath a sigh of relief. "Yeah, Chief! We upgraded the projectile system to support a variety of weapons like accurate guided missiles and ballistic weapons that are even affected by gravity."
"That's enough for now, see you at the station. Oh and Detective Bot... get some sleep."